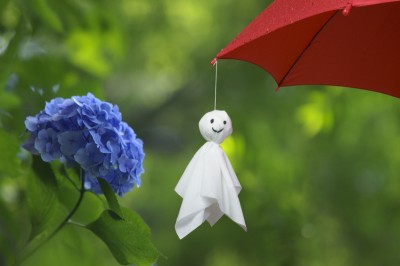 In Japan, Rainy Season, known as Tsuyu (梅雨), starts in Late May – Early June and ends in Mid-Late July depending on the region of Japan.
Tsuyu (梅雨) literally means plum rain. It was named this because Japanese plums ripen in this season.
The Rainy Season is known for it's beautiful Hydrangeas (Ajisai) which come in many colors, the most common being blue, white, pink and purple
Even though it is called the rainy season, it doesn't actually rain every day.
There is a Japanese tradition to hand-make dolls out of white paper or cloth and hang them outside or by your window to keep the rain away and bring sunny weather.
These dolls are called Teru teru bōzu which literally means "shine shine monk."